Everyone knows that a good massage is the best way to relax physically and mentally. It reduces stress, decreases muscle tension, leaves your skin hydrated, soothes anxiety and depression and makes you feel like a newborn baby. Our topic for today, the face massage, has even more benefits that you may not be aware of. It is like a mini workout for your face muscles, that helps to promote healthy skin and has a rejuvenating effect. It works basically like an anti-aging serum! Believe us, a face massage will not only make you feel, but also look better.
Let's be real, most of us do not have the time to visit a spa every week to get rid of facial wrinkles and benefit from vitamins for skin. But we have good news for you: you can get your face massage right at home. What is more, you do not need a partner to do it for you – there are plenty of self-massage techniques to try by yourself!
Here is everything you need to know about facial massage and its benefits:
What can a face massage do for aging skin and facial wrinkles?
If you look at yourself in the mirror and get the feeling that your skin is aging with you, you are not alone. In fact, some of the first signs we perceive from our body getting older are dull, drier skin, and the appearance of fine lines and facial wrinkles. This is why, as we age, it is of great importance to build a facial skin care routine. Do not know how to create one? Read about our recommended natural skin care routine here.
A face massage is a great addition to your daily facial skin care. This treatment targets our body's fascial – not to be confused with facial – system. The fascia is a specialized body system that lies underneath the skin, composed mostly of elastin and collagen. Why is it important? The fascia is basically a support under your skin that determines its shape. It is like a biological sheet that holds us together. A massage can help release the fascia, reduce and release tension in your face. Have in mind, the fascia is especially elastic and resistant, that is why in order to see any changes, you should work with it every day.
If you follow the procedures thoughtfully, the results should become visible within the next several days, and continue to improve over time. Your face skin will become fresh and youthful again, gain a little bit of plumpness and radiance as well as your face wrinkles will be reduced. Furthermore, it will start responding better to the products you apply on it, thanks to the increased blood and oxygen flow.
How to prepare for a massage for facial skin care?
Now, wait a second! We know you would love to have all the benefits of a face massage right away, wouldn't you? But before you start pressing your fingers all over your face, it is important to prepare your skin. These previous steps will ensure that your face is clean and makeup-free, and will help your fingers move smoothly on your skin.
Firstly, wash your hands thoroughly with soap. Apply a mild cleanser to your face and rinse with lukewarm water to make sure that your skin is clean. Gently pat it dry with a clean towel. It would also be great if you can tie back your hair or use a headband. This will keep any germs out of the way.
Then, use your favorite facial oil. Our favorites are coconut, almond, argan and jojoba oils – a pure organic chemistry. Pick whichever suits you the best! Coconut is best for skin with acne, argan – irreplaceable for anti-aging skin care, and jojoba and almond are suitable for all types of skin. If you prefer not to use any oils on your skin, choose the best moisturizer of your liking to get the effect of hydrated skin. Make sure you're using natural skincare products!
One extra tip: facial massage can be done using your fingers, but if you have an opportunity, try it with a jade face roller or Gua Sha. These skincare gadgets are really helpful, especially if you are not experienced at face massage techniques.
How to massage my face?
This massage procedure consists of five simple steps. Each step is focused on a different part of your face, in order to target every single corner of it. We will go through them and describe the movements one by one.
Start by placing your knuckles on the middle of your forehead and start moving them slightly upwards, then sideways. Do this in a scraping motion and repeat several times.
Using your index and middle fingers, carefully circle around the eyes. To do this, start just above the eyebrows, move your fingers towards the inner corners of the eyes, then glide under the eyes, and back.
Massage your cheeks by gently swiping your knuckles across them, towards the ears.
Apply small circular movements to your chin and jaw, gently pulling your fingertips upwards and outwards.
Massage the outline of your face by placing the knuckles at hairline level between your eyebrows, then bringing the knuckles down by the sides of your face. Try to extend the massage all the way to your jawline.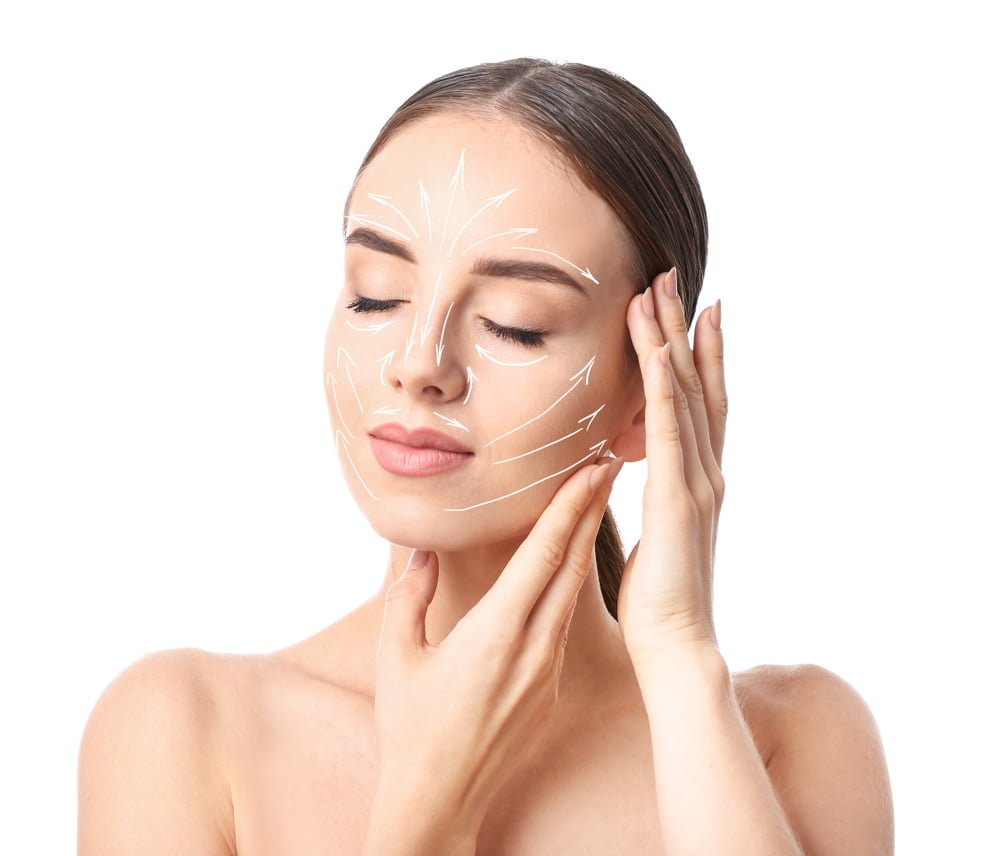 Do not feel intimidated by all these steps if this is your first self-massage. Once you have done this face massage sequence a few times it will become automatic and easy to follow. Thank you, muscle memory!
We recommend that you do the face massage at night. It will help your skin to absorb the nutrients of your night skin care products overnight and help you relax and unwind before going to bed. This face massage only takes a few minutes, so you can easily incorporate it to your daily routine and make it your best ally against aging skin.